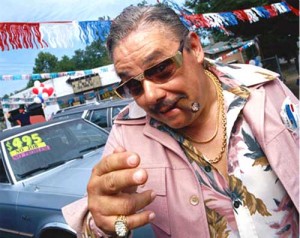 UPDATED AGAIN: See bottom for contact information from a reporter.
Read this:
Mohela took over my loan from the Department of Education and claimed it could change the terms?
This happened to me. Mohela bought my student loan, sent me a letter telling me that the terms on my loan had been modified, and then sent me letters telling me that my monthly payments were overdue — even though I had paid.

It turns out that changing the terms of your loan when it is sold is NOT LEGAL.
Here are the details:
I had only about $1000 left on my student loan and I got a flurry of paperwork in the mail (for a loan that I'd gone paperless on YEARS ago).
First, my loan was moved to Mohela.
Then, a note that "I didn't need to do anything."
Then, a note that the terms of my loan were recalculated. Which came in the mail while I was out of the country. And, based on the recalculation, I would be paying interest for the next TWO YEARS, instead of being done with my loan in April.
And then a notice that my loan payments were overdue. By two months. Like I said, prior to this paperwork nightmare, I would have had my loan completely paid off by April. I can't believe my loan was sold so close to my final payment date.
I called Mohela this morning, and after working my way through a truly Kafka-esque phone maze, I got on the phone with a very nice person. Who started to ask me some questions that would require me to get MORE PAPERWORK…. And she diplomatically handled my "O M G NO" rant, and even laughed with me when I said that I was clearly fed up and please could you just help me stop the horrible flood of paperwork and bewildering notices from her company.
That took nearly 30 minutes to get to that point.
She was nice, funny and helped me out. We reset terms of the repayment back to what they were before, and I got off the phone happier. Although still pretty pissed I'd had to call them at all about this.
And then I did some searching about other people's experiences with Mohela. I got out easy.
So, if you got some notices in the mail, and didn't read them carefully – go dig those letters out and see if you got screwed. Because if you did, and you're using direct deposit, you need to fix it NOW, as they have access to your bank account.
UGH.
This guy had the same experience as me.
UPDATE
I contacted Congressman Earl Blumenauer's office and they emailed me back the next day. I then talked with one of his local reps who said that the case was very interesting, and that they would be contacting the Department of Education to see what is going on with Mohela. I told them that they didn't need to get back to me — my issue is resolved for now.
I urge anyone who comes here because you're having problems with your student loans to CONTACT YOUR REPRESENTATIVES. I also sent letters to Senators Wyden and Merkley.
UPDATE 2: A reporter contacted me and requested that folks who are having problems with Mohela get in touch. Her email is eduloanstories@gmail.com.